Read Time:
2
mins
Disclaimer: I received no incentives from anyone for this review. I did not receive a free copy of Mozilla VPN; I purchased it like any other user. I have no affiliate arrangement with Mozilla.
I have been using a VPN for about 2-3 years now for work (designing and maintaining websites including ecommerce and online forums, maintaining dedicated servers, downloading software updates, etc.) and to watch videos "not released for viewing in your country". Until recently, my old VPN seemed to be reasonably stable. although on occasion it did crash or simply drop the connection, and it met my needs. However, when I tried to install that on my son's newer computer, it would not install. I continued use it myself, though, until I began to have increasing problems connecting to their servers and my connection speeds appeared to be getting slower and slower. There was also an annoyance in the old one that prevented me from sending emails while it was active (despite having all the correct Windows 10 settings to permit my email clients to send through the VPN).
Coincidentally, as a long time Firefox user, right about this time I received another email informing me about Mozilla VPN and decided to give it a try.
I have to say I was and still am extremely impressed by this VPN. Installation was easy and smooth. I like the simplicity of the interface once installed.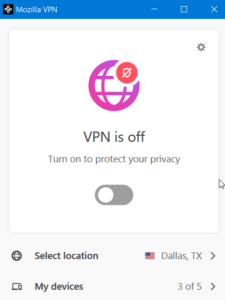 It is stable, efficient, and, what I love most about it, LIGHTNING FAST! Downloads complete in about one quarter of the time it used to take me with the old VPN.
It's also inexpensive. I am paying $4.99 USD monthly with renewals automatically billed to my credit card, which is significantly cheaper than many of its competitors without compromising features. From the Mozilla VPN website:
Device-level encryption
280+ servers in 30+ countries
No bandwidth restrictions
No logging of your network activity
Connect up to 5 devices
That last one, being able to connect up to 4 additional devices, was not a feature I had before and it has already been put to good use. And I can finally send emails without having to shut down the VPN!
Needless to say, I am a very pleased customer. I rate it a 10/10 and, if it isn't already obvious, I highly recommend this for anyone looking for a top value VPN.