Old wireless card preventing Windows 10 updates
Read Time:
2
mins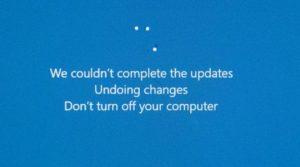 On one of my computers, I have experienced multiple problems with Windows Feature updates since about 1703. I tried everything I could find online to fix the problem (e.g., Windows 10 Creators Update common installation problems and fixes) and really nothing worked. The only way I could get a feature update to install at all was to use the Microsoft MediaCreationTool utility and the option to "Create installation media for another PC", and even then it generally took three or more tries before I could get the feature installed successfully.
However, my most recent attempt with the 1909 feature update gave me a more specific error message than previously when it failed:
0xc1900101-0x4000D

The installation failed in the SECOND_BOOT phase with an error during the MIGRATE_DATA operation.
Well this seemed like progress. This error points to a driver issue. I had already checked for all driver updates more than once and going through each driver listed in Device Manager painstakingly) both with Windows and with the manufacturers website. Everything basically told me I had the latest drivers and no updates were available.
But eventually, following Google links and then links in the sites listed by Google, I was led to one paragraph. Sadly, I did not record the link but it was from a Dell computer owner who talked about solving the problem by removing an old PCI wireless card that came with his computer, had never been used, and even had the antenna broken off a few years previously.
Now, this quite literally jumped off the web page for me. I don't have a Dell computer but I certainly had one of those old never-used broken-antenna PCI wireless cards that came with the computer. The writer noted that it was not enough to just disable the network driver; it needed to be physically removed from the unit.
I did this. Closed everything up. Rebooted. Started the 1903 update again from Settings >> Update and Security. And waited.
To my surprise and deleted it worked! Trying to updating that driver had not worked and likely never would because it was so old no one was bothering to provide updated drivers any more.
Now, as always, your mileage may vary but this was a very happy eye-opener for me and I am now back in business with everything functioning as it should.
The moral of this story is check for very old hardware in your computer and don't rely solely on what Windows says about having the best driver for any component. If you're not using it and don't need it, remove it. And if it is more than a few years old, think about making your life a lot easier by purchasing a new card,